All right, I finished the fair isle vest. I even wore it all day on Tuesday, and it didn't fall apart. I steeked the armholes and the neck, and the stitches did not start to stick out by the end of the day (I think I took it off at about 10:20 after band practice, so I wore it for about 14.5 hours). You have to understand, I'm always afraid things I made myself are going to fall apart as I walk around. Especially things I sew. But they generally don't. It's the stuff I buy at Le Chateau that usually collapses on my body.
Perhaps I should take a picture of the vest. I'll put that on my weekend list.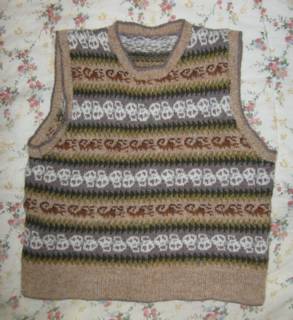 Sting - done!

So I finished one thing. I want so badly to start a new project, but I have three other sweaters started, and a swatch that is abandoned that I foolishly wrote in my project list, so I have to either return to it and come up with a purpose for it, or... well, there isn't an or. I returned to the sleeve of Admonition. I'd like to finish that before it's too warm to knit with aran-weight mohair (that will be tomorrow, now I've said something). I've redesigned the sleeves, and almost finished one, and it's a much funner knit now. Honestly, before it was punishment. Perhaps I'll finish the sleeve tonight and start the other sleeve, and the body.
I've also been working on Manhattan. The back is still done. Maybe I should block it to see if the curl in the ribbing is permanent, and if I have to come up with some clever way to make it stay down. Maybe I'll start a sleeve of that to try to trick myself into thinking I'm starting a new project. It's not going to work. Really, I want to try out AS' Aberlady from CC.